Surplus M65 Regiment Jacket
Black Camo
This hard wearing M65 Regiment Jacket is based on the well-known M65 field jacket, a model originally designed for the US Armed Forces, and it's a part of Surplus M65 Vintage clothing collection.
Presented M65 Regiment Jacket has an outer shell made of quality washed cotton with stylish vintage look and strongly water repellent properties (lotus effect). It also goes with warm and removable quilted fleece liner that can be used as a jacket on its own. The jacket fastens with a zipper and snaps, and features four front pockets, waist and bottom drawstrings, and a concealed hood in the collar. The long-sleeved liner features two chest pockets with zipper and bottom drawstring.
Ideal for all outdoor pursuits no matter the weather.
Jacket
Concealed hood
Heavy brass zipper
Snap-up storm flap
Waist, hood and bottom drawstrings
4 snap up pockets
Velcro adjustable cuffs
Shoulder epaulettes
Velcro fastening on collar
Detachable quilted fleece liner jacket
Stonewashed 100% cotton outer shell
Body lining: 100% cotton
Sleeve lining: 100% polyester
Hood: 100% cotton
Fleece:
Full length zip
2 zip pockets
Shell: 100% polyester
Body lining: 100% polyester
Sleeve lining: 100% polyester
Collar: 100% acrylic
Filler: 100% polyester
We recommend that you purchase a size down from your normal size to ensure that you get a good fitted look.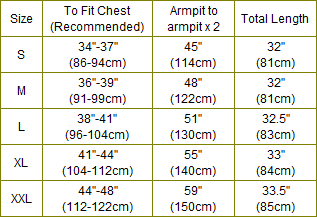 All the actual measurements given on the site as "armpit to armpit x 2" refer to the measurements of the garment and not the size it will fit.
The best way of checking if an item will fit is to measure a similar garment you have which fits well and compare the measurements.
When we give the "Armpit to armpit x 2" on an item it is measured directly at the top of the side seams (armpit to armpit) laid flat, then the measurement is doubled, giving the circumference.
If we state that an item is labelled "to fit xx" / XXcm" please check this against your own measurements.