Surplus Trenchcoat
Colour: Beige
This medium length, two-rowed coat was primarily developed and worn by the British Army, but nowadays is probably one of the most recognizable types of characteristic, army-inspired garments. Surplus reinterpretation of the classic trenchcoat features wide collar, two large side pockets and two inside pockets, sleeve pocket, shoulder epaulettes and decorative metal rivets. It also goes with inside seams finished with a camouflage trimming. The coat is functional and comfortable, perfect for spring/summer use, and made of soft and water repellent cotton material.
Material: 100% cotton
Manufacturer: Surplus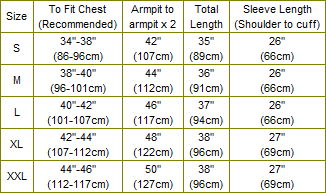 All the actual measurements given on the site as "armpit to armpit x 2" refer to the measurements of the garment and not the size it will fit.
The best way of checking if an item will fit is to measure a similar garment you have which fits well and compare the measurements.
When we give the "Armpit to armpit x 2" on an item it is measured directly at the top of the side seams (armpit to armpit) laid flat, then the measurement is doubled, giving the circumference.
If we state that an item is labelled "to fit xx" / XXcm" please check this against your own measurements.