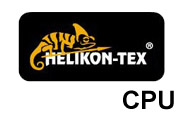 Helikon CPU Shirt & Combat Trousers
Combat Patrol Uniform (CPU), created and manufactured by Helikon, already gained a well-earned recognition among many Airsoft, hunting and paintball enthusiasts, as well as law enforcement and military professionals. This high quality, heavy wearing and comfortable tactical uniform is perfect for all seasons, and characterizes by modern cut and high level of functionality. CPU shirt goes with a Mandarin collar, 6 roomy pockets with Velcro flap closures, 2-way front zipper and pleated back, as well as armpit zippers for ventilation and reinforced elbows with elbow pad pockets. CPU trousers feature total of 10 roomy pockets and double layers on the backside and knees, as well as kneepad pockets and adjustable waist and cuffs. Lightweight, resistant to mechanical damage and fast drying, the CPU uniform is available at the UK based Military 1st online store in rare Hellenic camouflage which works great in dry woodland and arid environments of south Europe.
Read More...
Sorry there are no items in this category.