Mil-Tec Fleece Jacket with Ripstop Patch
ACU Digital Camo
Lightweight and comfortable
High collar
Full-front zipper
2 side pockets
Single slanted chest pocket
All pockets with zipper
Reinforced elbow, shoulder and chest area
Velcro patches on both upper arms
Adjustable cuffs with Velcro
Drawstring with cord stoppers on hem
Material: 100% Polyester
Trim: 100% Cotton Ripstop
Manufacturer: Mil-Tec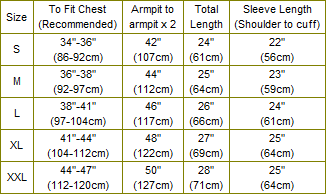 All the actual measurements given on the site as "armpit to armpit x 2" refer to the measurements of the garment and not the size it will fit.
The best way of checking if an item will fit is to measure a similar garment you have which fits well and compare the measurements.
When we give the "Armpit to armpit x 2" on an item it is measured directly at the top of the side seams (armpit to armpit) laid flat, then the measurement is doubled, giving the circumference.
If we state that an item is labelled "to fit xx" / XXcm" please check this against your own measurements.