Tactical Gloves
Tactical gloves, where would we be without them?
posted by Leslie Lee, Guest Editor on March, 12, 2018 in News tagged with news safety gloves highlander Airsoft Action tactical gloves viper tactical first tactical m-pact wiley x protective gloves helikon-tex mechanix wear airsoft helikon combat gloves military1st airsoft gloves viper helikon gloves pentagon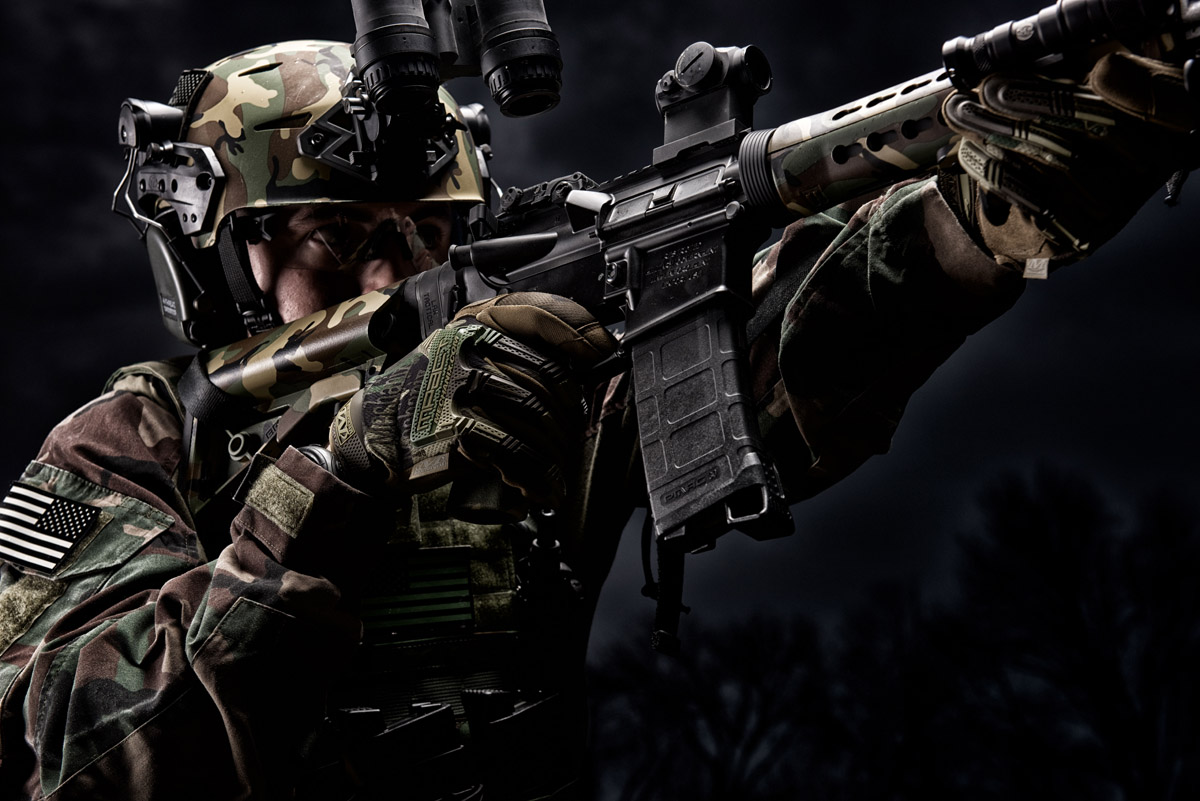 With winter almost upon us, Lez Lee gets his hands into seven different pairs of gloves, from across the price spectrum, to help us decide which is right for us.
Tactical gloves, where would we be without them? At the nail bar perhaps... Nah! At the first aid station? Maybe! And throughout the winter months in our green and pleasant (and usually cold) land, almost certainly with our hands caressing the tea urn in the safe zone. Yes, tactical gloves are here and here to stay, and I decided that it was prudent to carry out reviews on several pairs, which may help, or perhaps influence, your choice when spending your hard earned cash.
Military 1st carry a huge range of tactical clothing and accessories and are one of the largest online retailers and supporters of the Airsoft industry in the UK and one email later, a large parcel of gloves was heading my way so that I could compare them, taking into account:
Fabric/s
Fit
Comfort
Quality
Durability
Dexterity
Style
Price
As you will see, I have selected one from each of the leading brands and kept the price range to what I consider to be favoured by my fellow 'softers, with prices from under £20 to a little over £60 which should cover most player's budget and performance needs.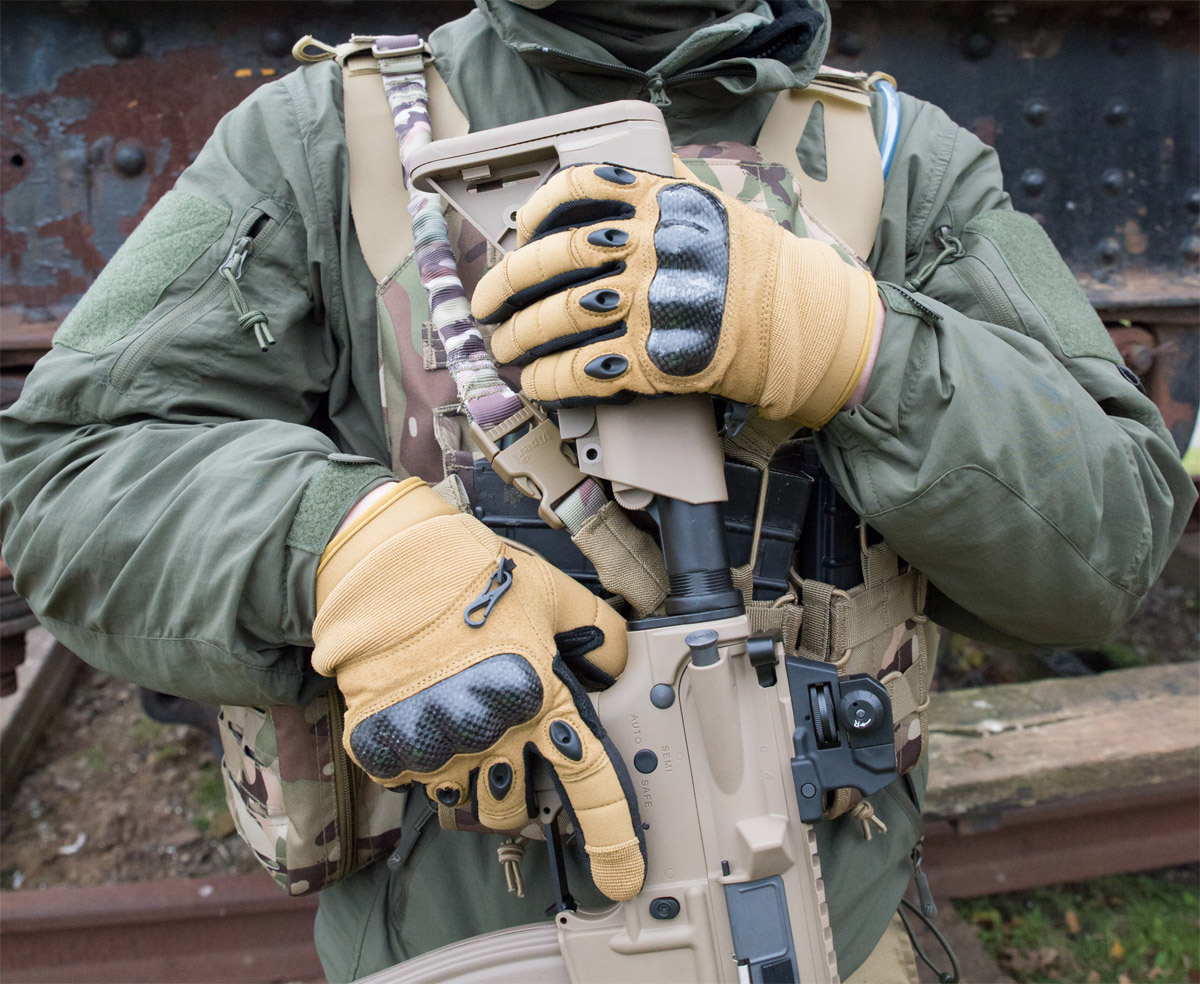 Viper Tactical has come on leaps and bounds over the last few years, and their product range has not only increased in choice and quality, but they have also kept their prices down so that customers get the best of both worlds.
Viper Tactical Elite Gloves. These particular lightweight, all-purpose gloves are suitable for either military personnel or Airsoft enthusiasts. Neoprene and fleece lining makes them comfortable to wear, while durable carbon fibre knuckle casing offers great protection. In addition, these gloves have multiple vent holes for easy air flow and mesh fabric with textured grip panels for extra security and safety.
The low-profile wrist closure is Velcro (aka Hook and Loop), and elasticated for a nice adjustable, comfortable fit, and a small plastic hook along the side allows for safe and secure storage and transportation.
Although available in various sizes and colours, only V-Cam version has covert knuckle protection, while all other colours have carbon fibre effect finish. Sizing is spot on, and they are very comfortable to wear. They look great, and the dexterity of these gloves is excellent as they do not "crease" in the palm. With strategically placed contact points and padded areas, this is a damn fine all-around glove, and I don't think it will disappoint.
Double stitching at stress points will almost certainly give the end user the longevity which is usually found in a premium pair but for the money, these are definitely worth checking out.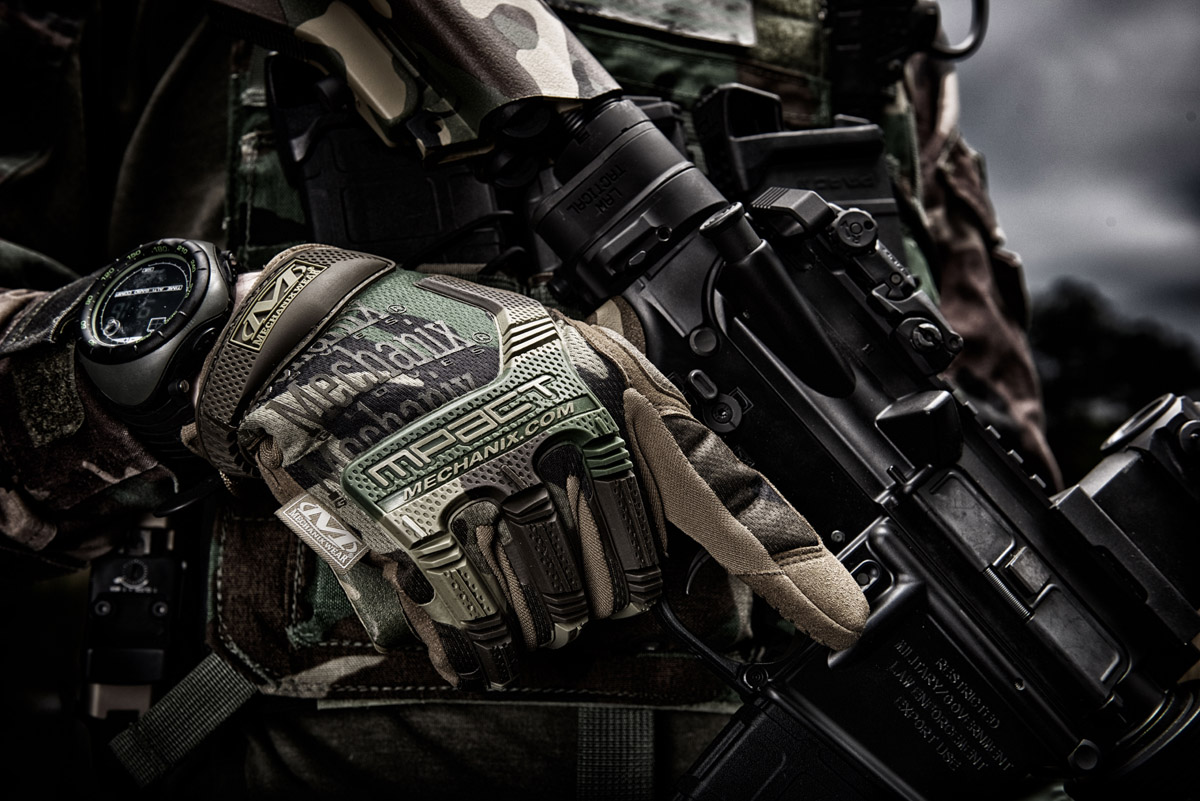 Mechanix Wear M-Pact Gloves. Seen here in U.S. Woodland camo, these are highly durable, multipurpose gloves for Military and Law Enforcement professionals and Maintenance Repair Operations, offering full-coverage hand protection, comfort, extra grip and optimum durability.
The breathable XRD open-cell foam palm padding protects from impact, and additional (also breathable) TrekDry material ensures that your hands stay cool and comfortable. Antimicrobial material properties are incorporated in the construction, together with synthetic suede palms featuring Armortex reinforcement for superior gripping power. Thermal Plastic Rubber (TPR) knuckle and finger guard provides excellent protection from knocks and embossed, and textured index finger and thumb ensures superb grip.
These tactical gloves are machine-washable and are certificated to EN 388: 2003. I think it's fair to say that when you are buying Mechanix Wear gloves, you are buying quality. Double stitching secures stress points and the low-profile elasticated wrist closure is secured with Velcro and features a handy loop for easy fitting and storage. I had to make one criticism; it is that the palm area is a little prone to puckering-up when closing one's grip with an empty hand but it is hardly a "choice-breaker".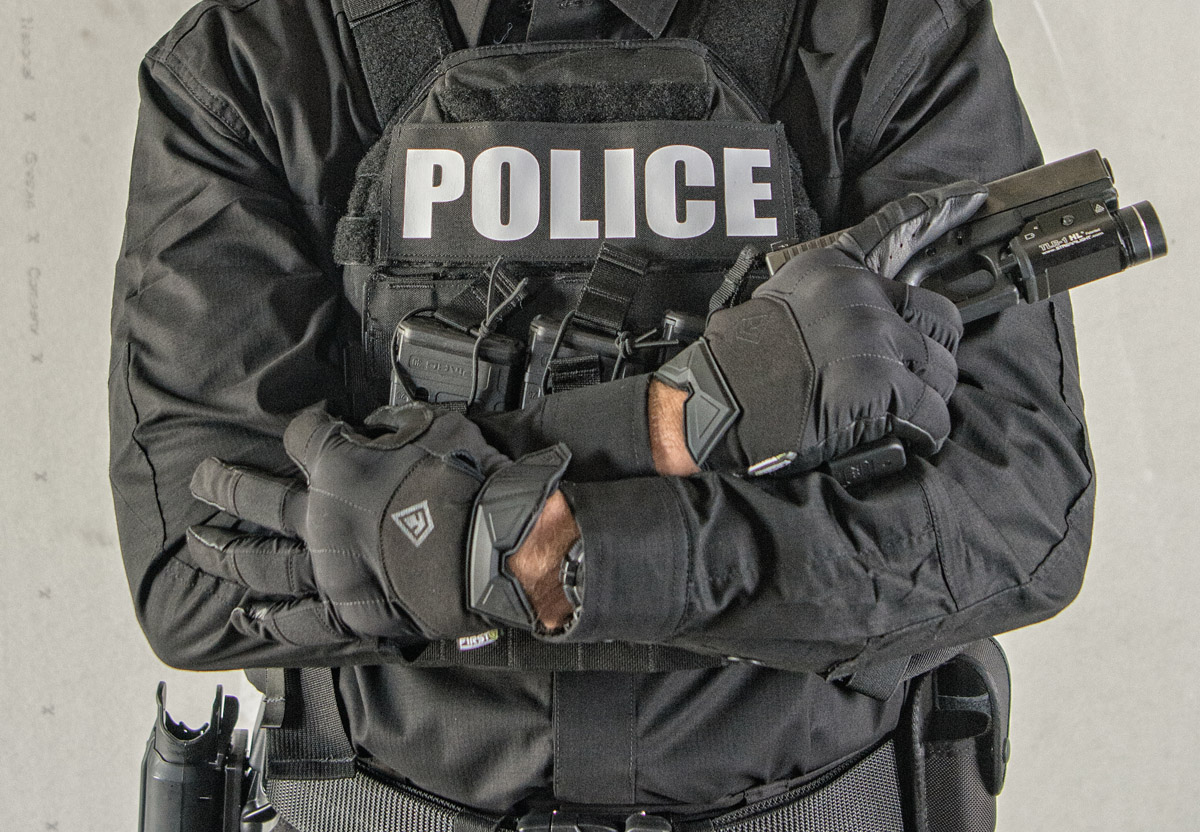 First Tactical Men's Hard Knuckle Gloves. Crafted from machine-washable genuine goatskin leather and snag-proof stretch woven mid-weight material, these gloves work well in a host of environments and activities including shooting, hunting, hiking and of course, Airsoft where a close purchase is an absolute priority.
They feature individual covert TPR knuckle protectors for extra flexibility, neoprene on finger knuckles for added safety and closed cell perforated foam padding on top for upper wrist protection. Additionally, they come with a superbly tactile palm for closer contact, U-shaped gusset for extra recoil control, and TouchTac (touchscreen-friendly) fingertips for increased sensitivity and maximum dexterity.
The fully adjustable Hook and Loop closure and low-profile BezelCuff watch cut-out offer maximum convenience and comfort, the thin but incredibly strong machine-washable palm construction enhances the ability to conduct searches, manipulate devices and gear and access the handgun in every way without removal, while the back-of-the-hand material is 49% Nylon, 41% Polyester and 10% Spandex which keeps these gloves supremely lightweight and fast-drying.
What I really like about these combat gloves is their subtlety. They wouldn't look out of place at any outdoor event or even walking the dog on these cold, wet and dreary days and nights because their appearance is uniform throughout, including the covert knuckle protection and presents the appearance of a simple pair of black gloves. They are a very snug but perfect fit so I would urge anyone to make sure that they get the absolute right size for them otherwise the primary benefit of superior tactile dexterity could be overlooked.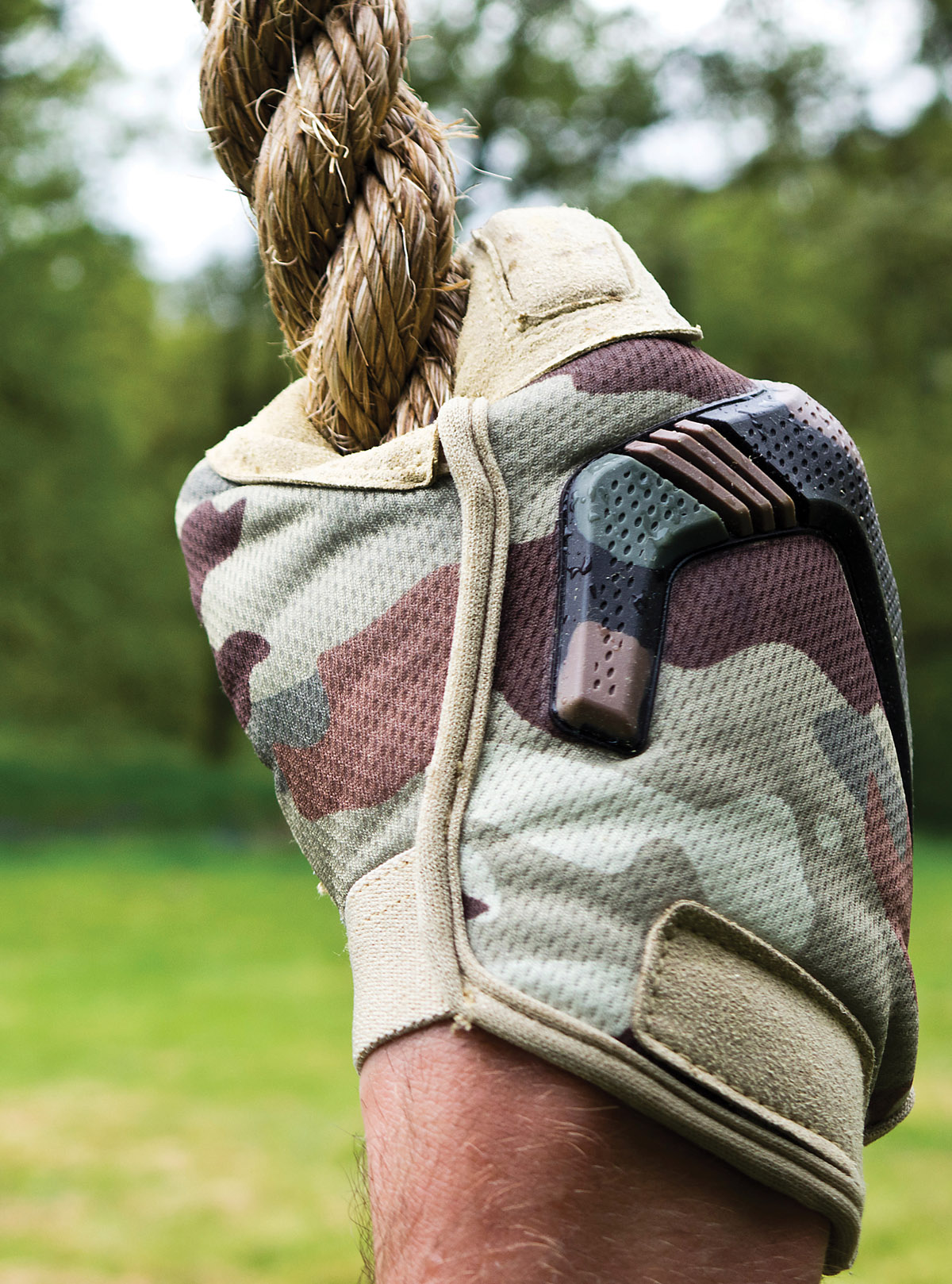 Highlander Raptor Gloves. These are the cheapest priced pair in the review, however, they are packed with invaluable features and come in black, olive drab and HMTC camo and are also available in fingerless guise.
From the extra padding on the palm, to the rubber protective shock absorbing areas on the knuckles and extra grip on the fingertips, I cannot see any reason why these gloves would not perform well in a wide range of duties, especially Airsoft and other tactical activities which require physical application whilst retaining dexterity and comfort. Manufactured using tough, durable fabrics such as Amara leather, polyester, rubber and spandex.
Amarastretch technology is a combination of fabrics designed for maximum comfort, which is a relative understatement as these were uber snug during use. This mix of materials creates a "faux suede" feel which is virtually indistinguishable from the original and is supremely comfortable both against the skin and when being applied on task. The shock absorbing rubber panels are almost identical to the aforementioned Mechanix Wear and give an abundance of protection to the back of the hand and fingers.
Again, they are finished off with double stitching in high-stress areas and the elasticated low-profile wrist closure is secured with Velcro. What really impressed me most was the fit. These gloves were beyond comfortable; there was not a single crease or constriction anywhere - it was as though these had been spraypainted on!
Such was the bespoke finish as they felt simply "too comfortable" to be accredited with the title "tactical" gloves, and weighing in at just 60g per glove it is easy to forget that you have them on. Highlander Raptor Gloves really are outstanding in their wearability, value for money and will serve you well.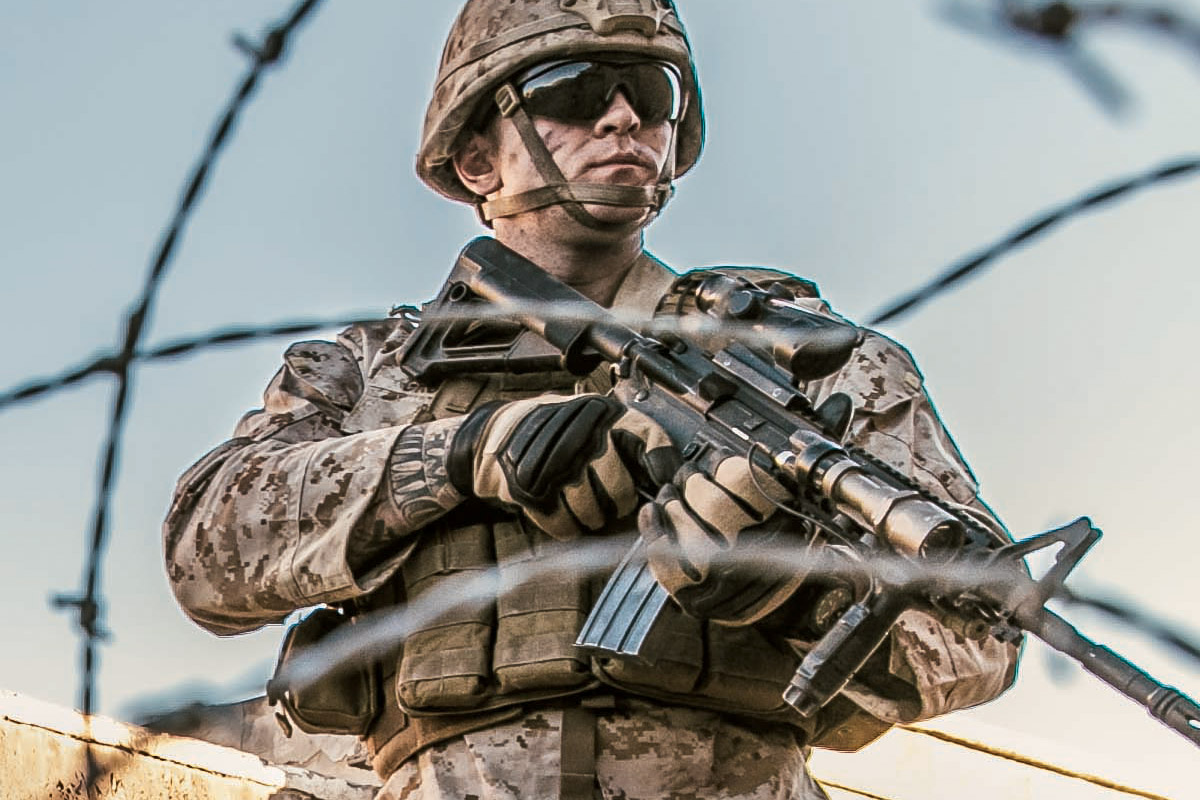 Wiley X Paladin Cold Weather Gloves. Primarily designed for colder climates, the Wiley X Paladin Cold Weather Gloves feature a lightweight Kevlar weave throughout the fingers and back of hand for flame resistance and cut protection, with Drifire fleece insulation for superior wicking and fast drying capabilities. A padded knuckle protector is added for an enhanced impact and abrasion resistance.
These puppies meet ASTM D 6413 flame resistance standard, ASTM F 1790 fabric cut resistance standard and NFPA 1971-07 thermal resistance standard, so it's no wonder they are in a higher price band.
Custom designed to match US Military uniforms, these high-quality gloves offer the best protection in the field but are also perfect for everyday use. All contact surfaces are flame-resistant goatskin for increased dexterity, durability and protection and incorporate leather reinforcement in high wear areas. A non-elasticated but fully adjustable cuff (with an incorporated nylon loop for storage and easy donning) is secured by a Hook and Loop closure flap with an embossed Wiley X logo for that "upmarket" image that some 'softers prefer.
Once again, adjacent fabrics are double stitched for reinforcement in high-stress areas, and upon closer inspection, the goatskin/leather really is beautiful and soft giving freedom of movement and extreme comfort. As expected, the fit is excellent, although there was slight palm crease during hand closure but nothing worth worrying about. To surmise, Wiley X Paladins are great gloves, and I feel that they are indeed worthy of the higher price tag. This is a premium multi-use glove for all colder applications - and some.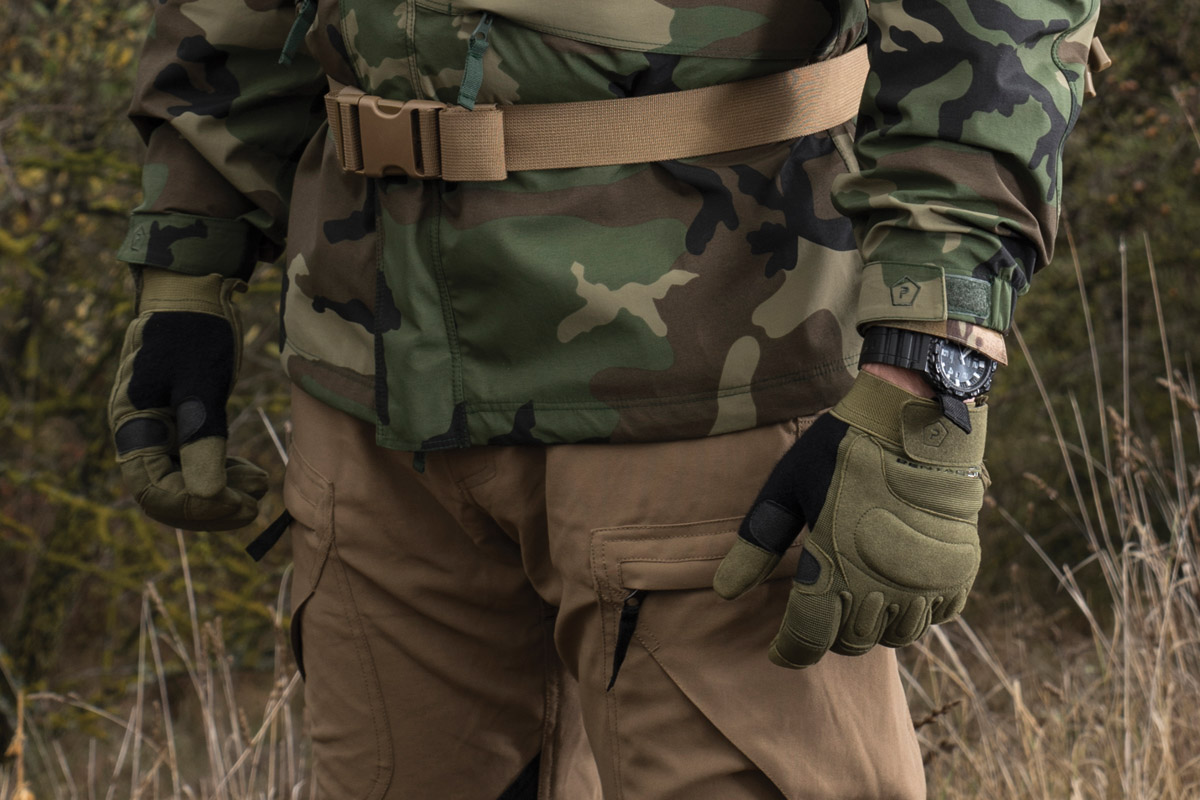 Pentagon Karia Gloves. Made of strong and highly breathable suede leather, Pentagon Karia Gloves provide great protection on a battlefield or during everyday tasks.
This all-purpose glove features outstanding purchase control thanks to varied grip patches located in the most strategic places, multiple foam pads for added comfort and protection located on high contact areas such as knuckles, fingers and palms. An advanced airflow system and elastic cuffs with Velcro closure incorporating a strong nylon loop for easy donning and storage.
With stretchable properties of the fabric and joint slits for action movements, these gloves are a great choice for both professionals and outdoor enthusiasts of all activities, especially Airsoft - when one of our biggest enemies can be a simple bramble bush hell-bent on tearing a hole in our skin whilst wielding our weapon.
Available in olive, black, khaki and coyote, these are a good, accurate fit and very comfortable. The one possibly overlooked feature is the "sweat wipe panel" on the outside area of the thumbs. I think it is fair to say that we all have those annoying sweaty moments during heated periods in our gunfights and a simple detail like this could keep us in the game with a simple swipe across the brow with a glove developed with this in mind. A small addition but a well thought out bonus from Pentagon Tactical.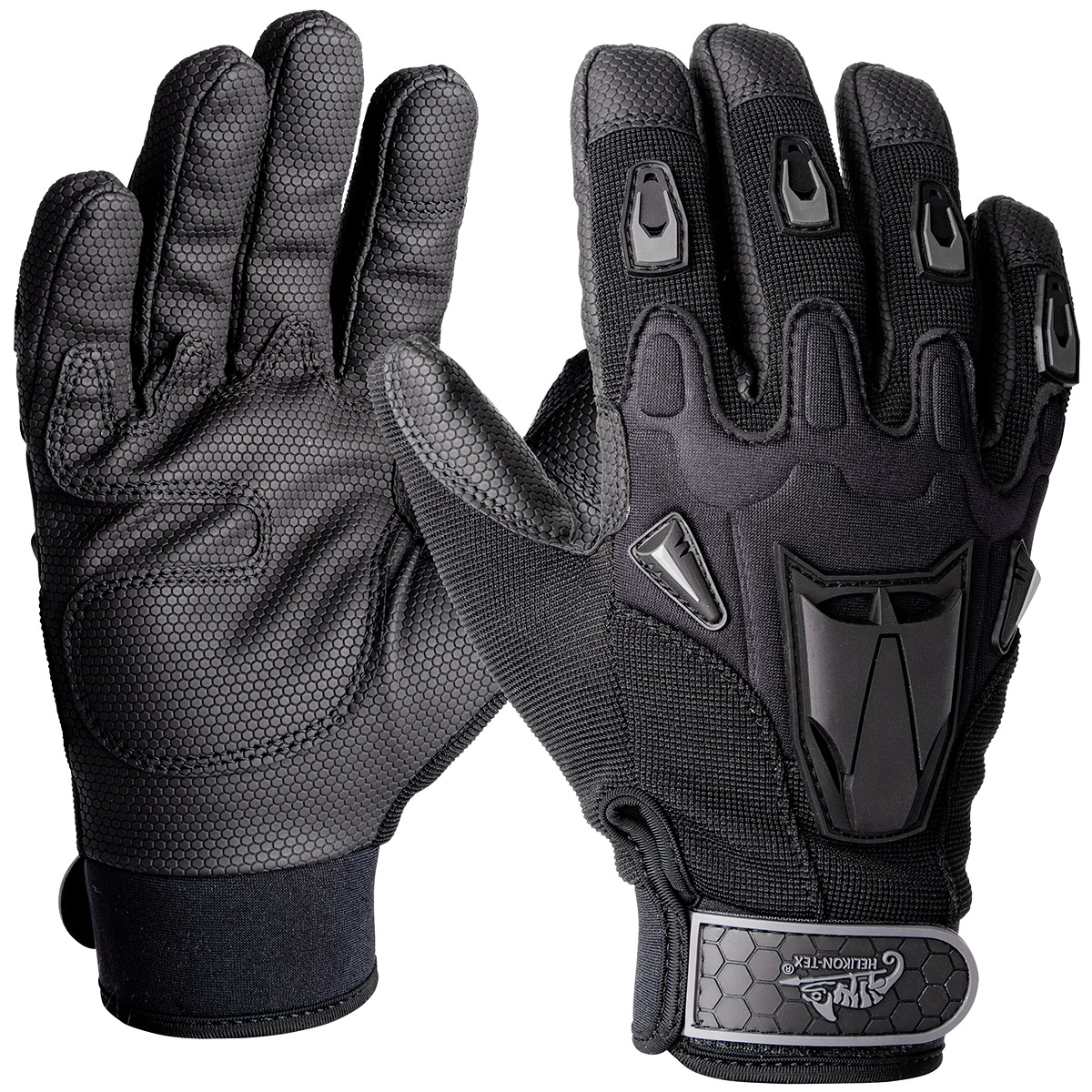 Helikon IDW Tactical Gloves. Last but not least are the heavy duty Helikon-Tex IDW full-finger tactical gloves. These are the perfect hard-core, intimidating battle gloves for cold weather conditions which offer a soft and flexible feel, plus maximum protection during combat situations.
The first thing which stands out is the aggressive styling - there is no doubt that these are for tactical use having been designed and radically built for the said purpose. Features include non-slip rubber reinforcement panels on the trigger finger and thumb and adjustable elastic cuffs with Velcro closure.
Although these gloves are of a kick-ass design and comfort, dexterity has been well maintained using soft next-to-skin fabrics such as spandex and neoprene. A host of contact pads add to the bold styling on the outside and to keep your mitts all toastie throughout colder periods, C40 Thinsulate lining will keep the frostbite at bay, however, what these gloves gain in appearance is slightly lost on the fit. Not only do the palms crease up when clenched, but the fingers are also longer than most others, and this could affect dexterity in some situations.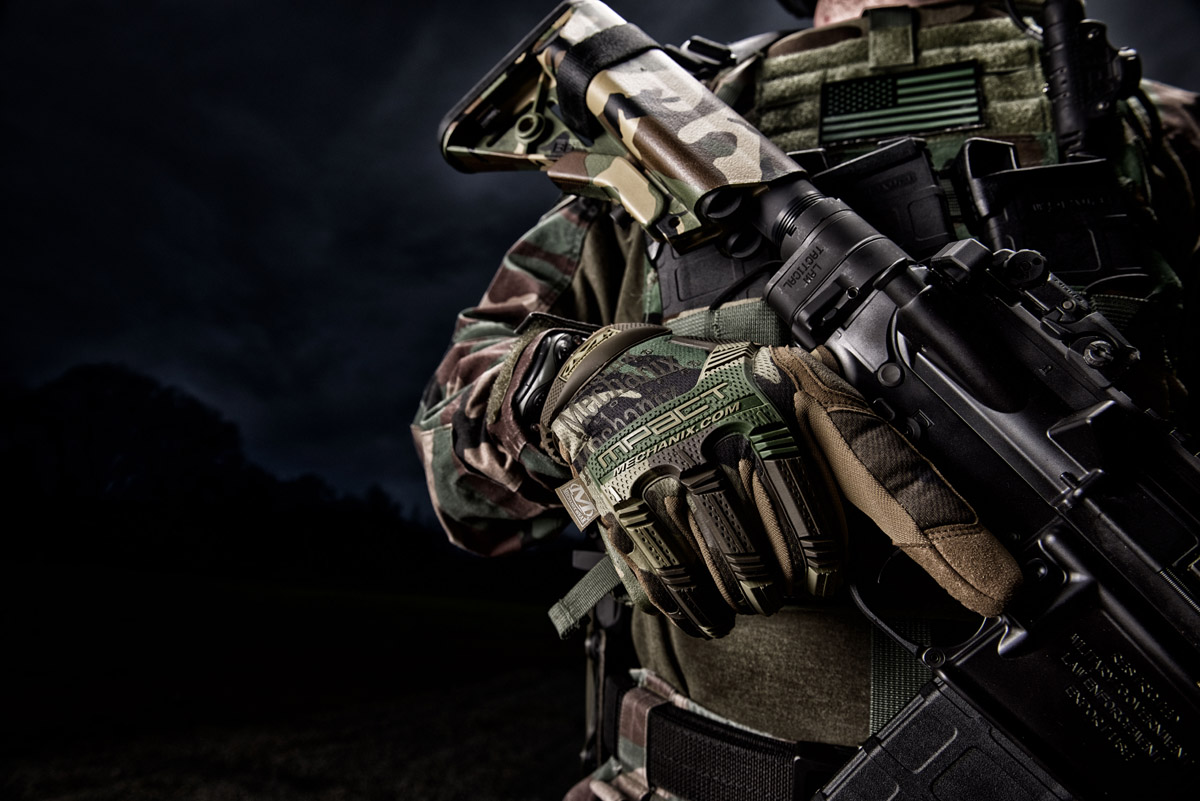 So there we have it, just a small selection from the huge range of tactical gloves that are available from Military 1st. All the gloves on review were superb and are perfect for Airsoft, so if you are looking to get your mitts on new mittens, or go full hog and grab some gauntlets I would urge you to visit www.military1st.co.uk – and allow yourself plenty of time to select a pair that are right for you because your hands can be quite useful during combat, so best that they are given all the tender loving care that they deserve.
So, decisions, decisions.... Which are my personal favourites? If I were going to buy a pair to get THE most use out of them, then it would have to be First Tactical Men's Hard Knuckle Gloves because they are, in my opinion, the best allrounder/ value for money and can be worn for many reasons and not just Airsoft.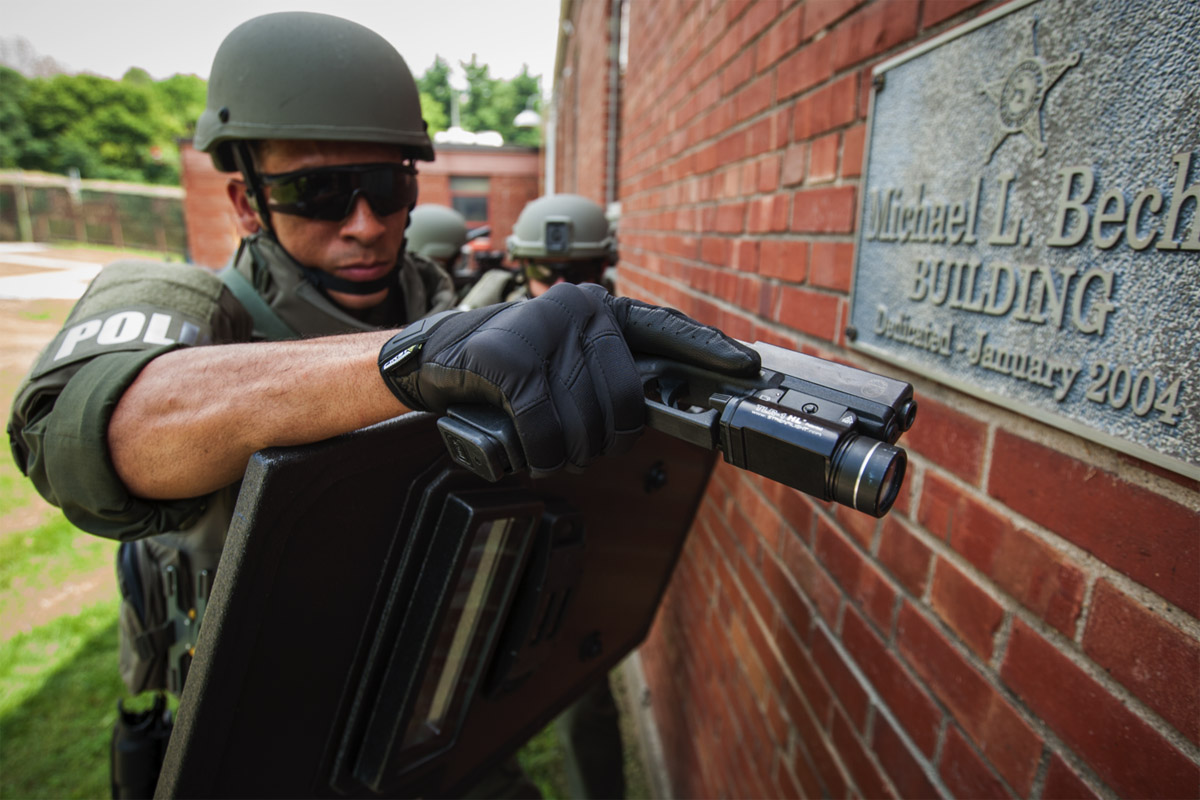 The 'Tactical Gloves' article was previously published in Airsoft Action Magazine, Xmas 2017.

Comments
There are no comments for this post, be the first to leave a comment below.

Leave a Comment