US Bermuda Shorts
Colour: Khaki
Very popular and stylish shorts ideal for summer time.
Button waist with pull adjuster both sides
Button fly
Two front and two rear button flap pockets
Two cargo style pockets with concealed button flap
Material: 65% Polyester, 35% Cotton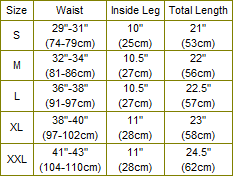 To ensure that you get the right size, we recommend that you measure your waist and compare your measurements with our size guide. Don't trust the size you read on the label of your jeans.
Instruction: Wrap the measuring tape around your waist, wherever you want the pants to button. Allow the measuring tape a little give in this area for movement.
W32 - 'W' stands for 'Waist' and the numbers are measurements in 'inches'.